Guildford Case Study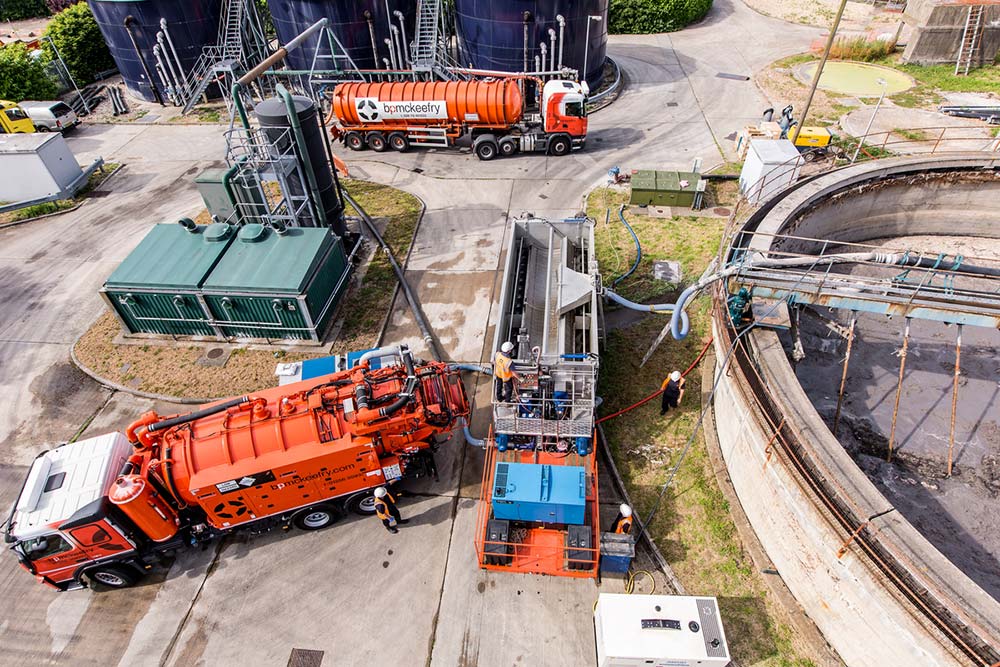 BP McKeefry were appointed by Thames Water to provide a comprehensive solution to challenges faced with four underground blending tanks at Guildford STW. The customer was unable to pump liquid sludge from the blending tanks due to the high percentage of bio-solids and extremely high rag content. The sludge properties were so challenging that the aeriation mixers in the tanks were working at approximately 10%. The STW was failing due to outlets and pipework being blocked with rag.
SOLUTION
BPM undertook a detailed appraisal of the site, challenges faced by the client and properties of product to be processed. This preparatory work was essential to propose the best possible solution.
The BPM solution involved:
1. 1 no. BPM Tri-Screen Plus (SBV02) as this capitalises on both a mechanical rake screen to remove rag/FOG and 2 stage vibrating bed to remove fine rag, grit, bone etc. (mechanical rake ensures that vibrating screens do not blind).
2. HIAB with grab to lift mass rag directly on to BPM Tri-Screen Plus
3. 8" submersible pump lifted into position by long reach HIAB feeding BPM Tri-Screen Plus product at approximately 325m³ per hour
4. 6" pump used to re-circulate screened product from belly tank into blending tanks to reposition rag into reach of HIAB and also break up product
SUMMARY
The BP McKeefry Guildford solution resulted in 80m3 per hour of high quality product being returned to the processing facility from the blending tanks which the client was delighted with. The solution also resulted in 8 skips of grit and 3 skips of rag being screened from the product contained within the blending tanks. The clean and highly compacted rag from the BPM Tri-Screen Plus also reduced the weight to landfill and therefore cost of disposal by approximately 83%.
CUSTOMER FEEDBACK
-ANDREW DODD – FIELD OPERATIONS MANAGER. THAMES WATER
"The team at Guildford are all massively impressed with how your machine has performed on the ragged up sludge that we were suffering with… I would recommend your services to anyone with similar issues with clogged up sludge tanks and the like!"
PAUL CHURCH – AREA OPERATIONS MANAGER. THAMES WATER
"The BPM Team have been absolutely fantastic. Their standard of work, from Health and Safety through to cleanliness and housekeeping has been superb. They have been flexible and accommodating to our needs and have been an absolute pleasure to work to with… I have been thoroughly impressed with the screener itself – a very versatile and robust bit of kit that I can see us having many more uses for in the future"
Please click here to download brochure.